Saturday, May 18, 2019
Meet Loretta Swit. Signing books at her table on the first floor all day!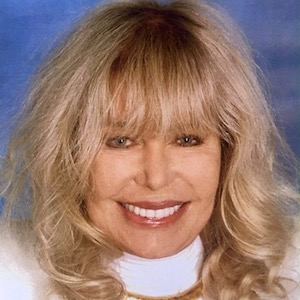 Loretta Swit is known to a generation as Major Margaret Houlihan of television's most honored series, M*A*S*H. She made her Broadway debut in Same Time Next Year and later appeared in The Mystery of Edwin Drood. She has toured with national companies of Any Wednesday and with two companies of Mame. Additionally she appeared in more than 500 performances of Shirley Valentine. Her movie and television credits run into the hundreds. Turning to the realm of animal welfare, her wildlife series, Those Incredible Animals, was shown twice weekly on the Discovery Channel for 5 years and now can be seen on Animal Planet and in more than 30 countries. She is an active board member of the Actors and Others For Animals, The Wildlife Waystation, the Hooved Animal Rescue Protection Society, and the Ark Trust. She has served as a spokesperson for the Humane Society of the United States, and has received numerous awards for her humanitarian efforts. Her original artworks make up the bulk of her book, SwitHeart, whose proceeds are donated to the SwitHeart Animal Alliance--whose primary goal is to return, reunite and rehabilitate (if necessary) military and working dogs from overseas, with an alliance of established organizations throughout America.
Apple Stage: Keynote Speakers
11:30-12:05 - James Yurichuk, Kiki Adami & Ysanet Batista; Daniel Karsevar (m) "Starting Up a Plant-Based Business"

James Yurichuk is a former linebacker for the Toronto Argonauts and the co-founder of the Wuxly Movement, whose mission is to protect wildlife. He is the brains behind the Trade-Up Program, which provides the public with the opportunity to donate their fur-trimmed and/or down-filled jackets in exchange for a credit toward a Wuxly animal-free jacket. He has also taken a strong stand on women's issues and bullying, as an ambassador for the Argo's White Ribbon and Huddle Up campaigns. He and his family are currently living a plant-based lifestyle.
Kiki Adami is the founder of a hospitality consulting company called Veganizer, which helps companies adjust to the growing demand for plant-based foods dictated by Millennials and GenZ. She operates in 5 American cities and has worked with more than 50 partners. Previously she spent five years as a cruise director, exploring vegan food around the globe and teaching vegan cooking classes. She has also hosted vegan pop-up dinners within omnivore restaurants.
Ysanet Batista is a queer Black Dominican woman who was born in NYC. She is a plant-based chef who created the food service and food justice worker co-op Woke Foods. She also helps others start businesses at Green Worker Cooperatives. She enjoys learning how to grow her own food through Farm School NYC. She plans to start a farm bed and breakfast co-op called Mamá Tingó in the Dominican Republic.
Daniel Karsevar is a formally trained chef, former restaurateur, business consultant, and product development expert with over 15 years of C-Suite expertise in the food industry. Daniel served as COO of Chloe's Fruit prior to founding Solutiontopia, a consulting agency that launched numerous brands at Natural Products Expo East & West and developed clean label plant-based products for Unilever and other Fortune 500 companies. Daniel currently serves as CEO of PlantBased Solutions, an award-winning business services company that helps brands develop, launch and scale plant-based food products. He is also a mentor to many food incubators & accelerators, as well as a contributing industry speaker and writer.
12:15-1 - Aaron Kinnari, Kellie Shoten & Marty Krutolow; Noah Hyams (m) "Vegpreneur Food Business Panel"
Sponsored by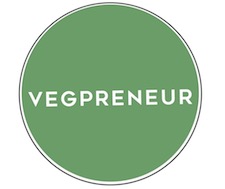 Aaron Kinnari is the founder of FLTbar. Kellie Shoten is the founder of Kaari Foods. Marty Krutolow is the founder of Marty's V Burger. Noah Hyams is the founder of Vegpreneur.
1:15-2 - Karine Charbonneau, Eleni Simos & Zak Shelton; Isabelle Steichen (m) "Panel: I'd Be Vegan But..."

Karine Charbonneau is the owner of Find Veg Love, a company that specializes in singles events for vegetarians and vegans across North America. She has done events in over 100 cities since February 2017 and her events have results in almost 5000 matches. Karine has over 10 years of event planning and event producing experience and is super passionate about building relationships and connecting people together within the veg community.
Eleni Simos is a certified Holistic Health Coach and plant-based chef. Known as "The Clean Eating Chick," she is dedicated to educating people on the importance of healthier habits, self-love and a positive mindset for optimal health. She graduated from the Institute of Integrative Nutrition in 2014, and studied vegan culinary arts at the Plant Lab Academy in New York.
Zak Shelton was raised a third-generation Texas cattle rancher, avid hunter, and barbeque enthusiast. Vegan for seven years now, and a digital marketing entrepreneur, he has been able to watch and understand stages of his journey that have included everything from borderline disownership by friends and family, to watching his meat-loving friend go vegan and start an animal sanctuary. He understands overcoming all objections to the vegan lifestyle, because he had to overcome them in himself.
Through The Plantiful Podcast, Isabelle shares her story with others who are looking to build a healthy, sustainable life. She is certified in plant-based nutrition from e-Cornell, and is also Ishta Yoga-certified. She is a weekly contributor to Peaceful Dumpling, an online vegan health and wellness site.
2:15-3 - Alicia Kennedy "Live Taping of Meatless: A Podcast About Eating on Fast Food Obsession"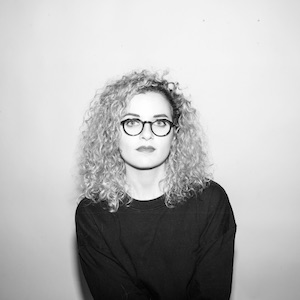 Description: With the Impossible Burger at Burger King and White Castle, petitions for McDonald's to offer a vegetarian option, and press for Taco Bell's vegan options, fast food has become a bellwether for acceptance of a plant-based diet. But should it be? From labor issues to ingredient sourcing, fast food giants are known for unethical practices. In this live recording of Meatless: A Podcast About Eating, we'll dissect the wins and problems of vegan fast food.
Alicia Kennedy is a Long Island–born, Brooklyn-based food writer and recipe developer, who also ran a bakery for a year. She is the vegan recipe columnist for Nylon and a former Village Voice contributor. She also regularly contributes to Liquor.com, and served as a spirits judge for the NY World Wine & Spirits competition. Her Meatless podcast features conversations with chefs and writers on issues around culture and meat consumption.
3:15-4 - Eric Adams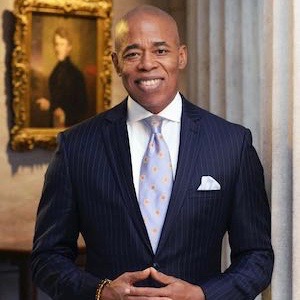 For the past three decades, Eric L. Adams has served the residents of New York as a police officer, state senator and coalition builder. In 1995, he co-founded 100 Blacks in Law Enforcement Who Care, an initiative that not only improved NYPD/community relations, but raised funds for worthy causes throughout the city. Beginning in 2006, he represented the 20th Senate District, working to address a broad range of issues from civil rights and public safety to transparency in government and quality of life. He organized support against the NYPD's controversial "stop and frisk" policy, and led efforts on behalf of gun control. Eric has also served on the board of the Eastern District Counseling Service, an organization assisting former substance abusers to live productive lives without dependency on drugs or alcohol. In November 2013, he was elected Brooklyn Borough President. He enjoys riding the streets of Brooklyn on his bicycle, meditation, and exploring new cultures and places.
5-5:45 - Dr. Shivam Joshi "How Evidence of a Plant-Based Human Evolution Affects Health Today"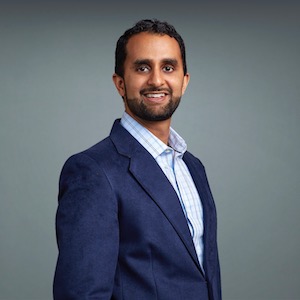 Dr. Shivam Joshi is an internal medicine and plant-based physician practicing at Bellevue Hospital in New York City. He is a faculty member of NYU's School of Medicine with research interests in plant-based diets, evolutionary diets, fad diets, and nephrology. He received his BS from Duke University and his MD from the University of Miami. He completed his residency at Jackson Memorial Hospital/University of Miami and his fellowship at the Hospital of the University of Pennsylvania.
Pear Stage: Food Demos
Sponsored by Little Choc Apothecary & Misfits Market
Stage Coordinator: Elena Beresneva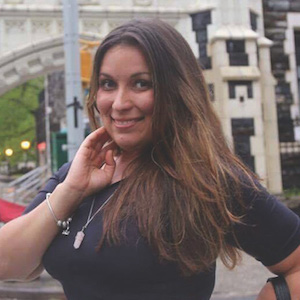 12-12:30 - Dalia David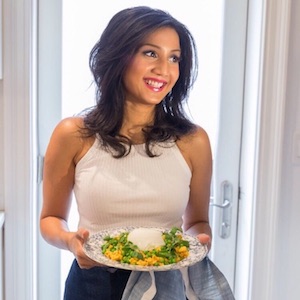 Dalia is a Celebrity Chef, Writer and Speaker. She has been a Finalist on Food Network's Chopped and has partnered with high profile brands such as Citigroup, Athleta, Linkedin, Gap, James Beard House and Atelier Cologne. Dalia's food and wellness philosophy is strongly influenced by her earliest experiences growing up on a pineapple plantation in South India. After spending her childhood surrounded by rice paddy fields, acres of coconut & banana trees; she learned that living harmoniously with nature is more than just an abstract idea. It is a concept that connects each of us with the earth, our most natural source of energy and vibrancy. Dalia trained at the Natural Gourmet Institute and studied Plant Nutrition at Cornell University. She honed her skills in the restaurant kitchens of Jean Georges' Spice Market, Pure Food & Wine, the James Beard Foundation Kitchen, and as a Catering Chef for Linkedin HQ feeding 400 ppl daily. After leaving the high-intensity workplace that is NYC kitchens, she shares her knowledge of food and holistic living as through Cooking Demos, Private Events and Corporate Classes.
12:45-1:15 - Christine Wong "Ratatouille's Ratatouille"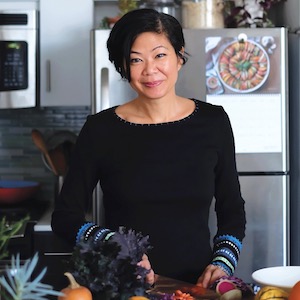 Christine Wong is a certified health coach, instagram influencer, and creator of the lifestyle brand Yommme, the art of mindful eating which celebrates healthy, plant-based eating. Embracing the bounty of local produce and eating the rainbow goes beyond salads and smoothies in Christine's debut cookbook "The Plantiful Plate: Vegan Vinyasas from the Yommme Kitchen" (Countryman Press, 2019). Christine lived in Hong Kong where she managed her own design firm, and is now based in New York City, where she is Creative Director at LUCKYRICE. As a representative of the Plastic Oceans Foundation, she is a strong advocate of refusing single-use plastic packaging in order to save the oceans.
1:30-2 - Terry Hope Romero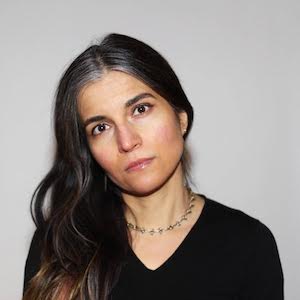 Fascinated by cookbooks as a kid, Terry has been a lifelong home chef and baker. By the time she was 16, she was obsessed with vegan food. In her many years since moving to NYC, she has worked throughout the food scene as a vegan baker, a line cook on a food truck, and author/coauthor of 10 vegan cookbooks. She's also contributed to magazines such as Bust and VegNews, and has consulted for various food start-ups. She is the head of the food vertical at Kickstarter, and is the program manager for the Food-X food startup accelerator. In her free time, Terry bakes vegan croissants, stress-sews band patches onto jean jackets, and hikes the Hudson Valley looking for strange and unusual mushrooms.
2:15-2:45 - Dustin Harder "Vegan Fondue Party!"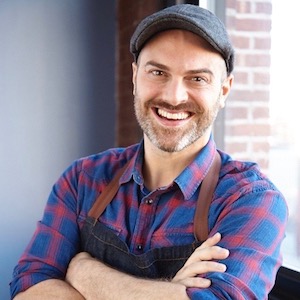 Dustin Harder is the host and creator of the web series The Vegan Roadie, the plant-based version of Food Network's "Diners, Drive-Ins and Dives." When not on the road filming he is a plant-based personal chef, graduate of the Natural Gourmet Institute and recipe developer in NYC. Dustin has traveled the country since 2003 as an actor and eventually a chef making appearances on morning talk shows and at veg fests educating veg-curious people across the land, veganizing American standards and inspiring even the clumsiest of kitchen misfits to become kitchen warriors in their own homes!
3-3:30 - Tere Fox "GF Buckwheat Pizza! Pizza!"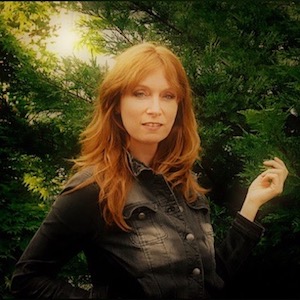 Chef Tere Fox is co-creator/owner and executive chef of the famed Rockin' Raw. She also heads the catering and consulting company Jam, which focuses on gluten-free cakes and pastries. Additionally, she consults with businesses on how to bring more plant-based foods to every table and menu.
3:45-4:15 - Amber Orlino "Making Vegan Cupcakes"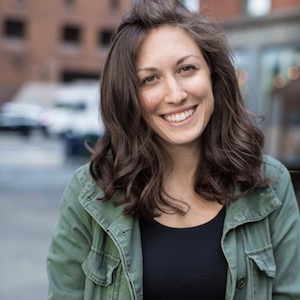 Amber started her culinary career as the founder and operator of Nature Baked, an online vegan cupcake bakery. Her passion led her to The Natural Gourmet Institute, where she studied nutrition-based culinary arts. Currently Amber works as the chef of New York City's first all-vegan creperie, Little Choc Apothecary, and as a freelance recipe curator.
4:30-5 - Nupur Arora "Vegan Chana Masala and Vegetable Pilaf"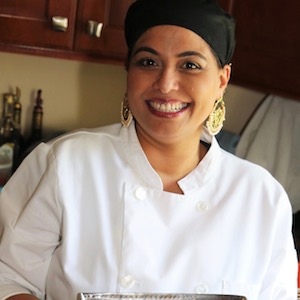 Fashion designer-turned chef, Nupur started Queens Curry Kitchen as a way to explore her creative endeavors with food and a diverse palette. What started as a hobby soon became hugely popular amongst Indian students. Today the business includes catering events and a weekly meal service. She is also the author of The Vegan Indian Home.
Mind / Body Zone
12:15-12:55 - FlexPilates Mat

Expect an intense fast-paced total body workout that will not only sculpt & tone long lean muscles, but will improve endurance, stamina, balance, alignment and of course core strength. With a strong emphasis on form and always led by certified & experienced instructors, FlexPilates is a workout for both your body and your mind.
1-2 - Yoga with Geoffrey DeVaul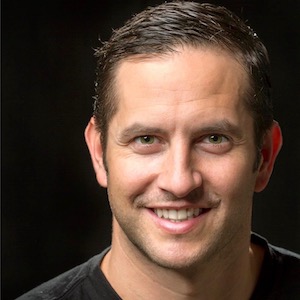 Geoffrey DeVaul is a New York City based yoga instructor and healer. Since 1997, Geoffrey has been immersed in the process of self-love and the healing of trauma. Schooled in the art and science of biomechanics and the language of the heart, Geoffrey's yoga teaching safely leads his students in to the most beneficial alignment for grounding and freeing the spirit. His down-to-earth approach and humor make for a light-hearted yet extremely impactful practice. His teaching is geared to two main aims: first to awaken the student to their own divine essence, secondly, upon having that awakening sharing in the delight of what that experience offers. Yoga comes from two words meaning the union of the self. Geoffrey is committed to every student having the experience of understanding themselves more fully and having a presence of their heart and it's power to heal and/or propel us to our most magnificent potential inside of this body, inside the gift of our lives. Yoga of the body (Hatha yoga), Breath work (Pranayama), and Meditation (Dhyana) are the staples of his practice.
2:10-3:20 - Yoga with Derek Goodwin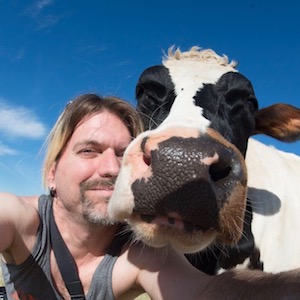 Derek Goodwin has been a vegan for over 20 years. He became a certified Jivamukti Yoga teacher in 2011. His yogi name, Pashupa, means "protector of animals." He mixes his love of storytelling and music into his classes, which are physically challenging but always suited to the students he serves. Derek is also known for his photography of farm animals living in sanctuaries and of yoga practitioners. He was the co-host of Vegan Radio, and he also founded the Vegan Bus Project. For more information: http://www.derekpashupagoodwin.com
3:30-4:20 - Dr. Rene Alkalay "Mat Yoga"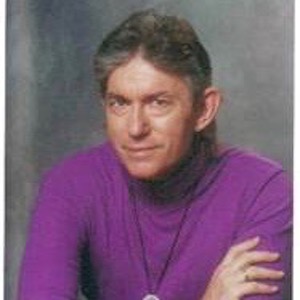 4:25-4:55 - Lena Di "Mindfulness and Yoga"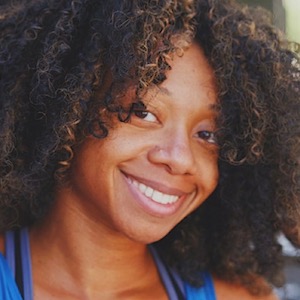 Lena Di is a plant-based wellness entrepreneur who holds a BA in Psychology and Communication from Rutgers University; post baccalaureate credits in Clinical Psychology; National Personal Training Institute (NPTI) Personal Trainer Certification; NPTI Nutrition Consultant Certification; AAAI Yoga Instructor Certification; a 200-hour Registered Yoga Teacher Certification; and Baptiste Yoga for Youth Certification. Additionally she is an experienced Vipassana meditator, professional dancer, and choreographer.
5-6 - Pilates Mat Class with Kimberly and Katherine of Pilates on 5th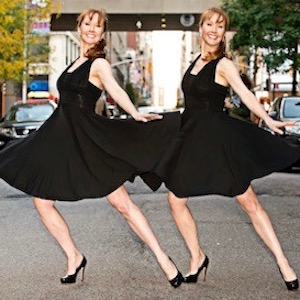 Fitness and wellness experts Katherine and Kimberly Corp opened Pilates on Fifth, Manhattan's largest Pilates studio, 19 years ago and have since helped hundreds of New Yorkers each week get stronger, longer and leaner. The former Radio City Rockettes started the first online Pilates video website "Pilates on Fifth Online" in 2007 and authored their first book, "Pilates for Beginners," in 2018. With the belief, "you can be WELLthy on any budget," the pair recently launched a website and YouTube Channel "Let's Get WeLLthy" to dispel any myths about wellness that have seeped into pop culture and help people lead a healthier lifestyle.
Kumquat Kids' Area
Sponsored by

Families with children, be sure to visit our Kumquat Kids' Area for fun arts and crafts, storytelling, playacting, and more!
Coordinated by Tashya Knight
Tashya Knight is a holistic health coach and certified Health Education Specialist. She coaches women one on one, empowering them to create healthier and happier lives for themselves and their families. She also works as a children's nutrition and wellness specialist teaching nutrition education and cooking classes in schools and after school programs throughout NYC. This work has led her to recently become a certified yoga teacher. Follow her on Instagram @tashyak_wellness13 or friend her on Facebook to learn more.
12pm: Story Time: I Am Not Food with Author Abioseh Cole
1pm: Kids Yoga with Tashya Knight
2pm: Design Your Own Eco Bags with Raise Vegan
3pm: Flower Bombs with HEART