Festival Preview: What's in Store for the 7th Annual NYCVFF?
Cycling champions and Ivy-trained physicians are just a few of the presenters on the docket for the 7th annual New York City Vegetarian Food festival, taking over the Metropolitan Pavilion May 20-21, from 10 a.m. to 5 p.m. both days.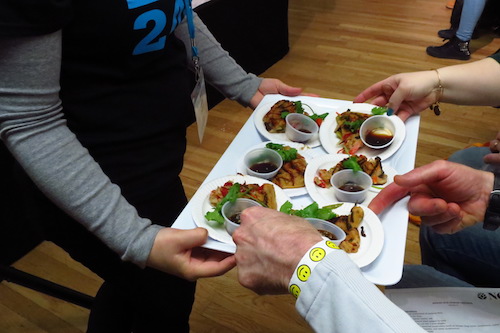 Silver medalist Dotsie Bausch will speak on "Unleashing Olympic-Level Activism," while professional vegan cyclist Christine Vardaros will let listeners in on how to "Eat Like Pro Athletes: Diet Tweaks for Improved Fitness."
Power-lifters and body-builders will get their moment on the stage as well, as a quintet of African-American vegan athletes speak on a panel entitled "Keeping It Real." Meanwhile, kickboxing champion Omowale Adewale will weigh in on agricultural globalism.
On the medical roster, Dr. Robert Ostfeld returns by popular demand to speak on "Confessions of a Reformed Cardiologist: A Plant-Based Diet and Your Heart."  Internist Dr. Robert Graham, who is also a vegetable farmer and cook, will talk about "Food as Medicine: A Doctor Dishes the Truth, Not 'Alternative Facts.'" Dr. Michelle McMacken will speak on "Seven Things that Happen When You Stop Eating Meat." And Dr. Chiti Parikh will give the low-down on the "Gut Microbiome and Your Health."
New at this year's festival are two screenings of the 19-minute documentary "Home on the Range." It explores the rich emotional lives and intellectual gifts that all animal species possess, and features the beautiful grounds of the Catskill Animal Sanctuary. A Q&A session will follow each screening.
For a little fast-paced and romantic fun, there will also be two session of Veg Speed Date, designed specifically for vegans and vegetarians looking to make special connections in a non-judgmental atmosphere.
Two more new presenters will focus on "veganizing" traditionally non-vegan foods. Kiki Adami spent five years as a cruise director, exploring vegan food around the globe and teaching vegan cooking classes. In 2014, she was the first person to flip a restaurant from "paleo" to "vegan" which led to the launch of her consulting company, Veganizer. Since then, she has been tracking the veganized restaurant revolution and hosting vegan pop-up dinners within omnivore restaurants every month in four cities. Her talk is entitled "Coming For Your Meat."
Michael Suchman and Ethan Ciment will speak on "Veganizing Iconic New York City Foods." Together they are knows as The Vegan Mos. They are both proud Barnyard Benefactors for Our Hen House and Guardian Circle members of The Physicians Committee for Responsible Medicine. They live together in Williamsburg with their vegan dogs, Riley and Charlie. 
Animal rights activists such as Farm Sanctuary CEO Gene Baur, scores of vegan chefs including Victoria Moran, authors, and motivational speakers will round out the speakers' corner.
For a change of pace, festival-goers are invited to enjoy a performance by the Edward Morgan Ballet, directed by Joseph Alexander. The New York Sun has described the troupe as "a rare company, one that eschews gimmicks and trends in favor of training and purity of style."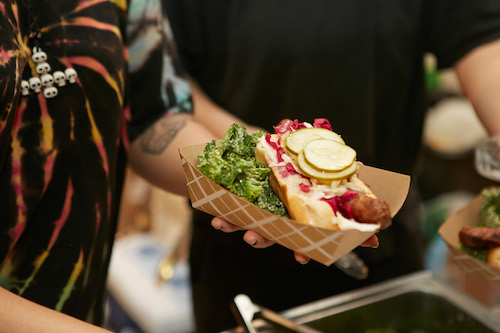 In addition, there will be more than a hundred vegan vendors of beauty products, clothing, and food, food, food. For example, Marty's V Burger, whose tagline is "Fast Food, No Bull" will cook up hearty and juicy vegan burgers for those who queue up at his booth (there's always a line there). To feed a sweet tooth, patrons can cruise over to Sweet Maresa's table for artisan French macaroons and cakes. Or perhaps on to the Rescue Chocolate station for organic and fairly traded chocolate bars and truffles, whose profits benefit animal rescue organizations.
The New York City Vegetarian Food Festival is presented by U.S. Veg Corp, a company which also produces festivals in California and Arizona. Additionally, it runs vegan food competitions, Vegan Drinks Brooklyn, and other smaller scale events around the NYC area. 
For more information on the upcoming festival or to purchase tickets, please visit http://nycvegfoodfest.com/index.php.