Blurb:  Be on the lookout for Erin Red at the NYCVFF 2013;  she'll be making rounds both days, spending time with each vendor, speaker and presenter asking the all important "10 Questions with Erin Red".  Erin Red is the enthusiastic Host of Red Radio: Vegan Banter with a Bite, a Certified Vegan Lifestyle Coach, Educator & Vegan Nutrition Specialist, Co-Founder of The Seed: A Vegan Experience, and Career Animal Activist.  She likes to refer to herself as a "Professional Vegan", and can be found at ErinRed.com, or on Twitter and Facebook as ErinRed.
Preaching to the Choir:  The NYCVFF is Not Just for Vegans!
With the 2013 New York City Vegetarian Food Festival fast approaching – less than one week away! – the vegan community is simply bursting with excitement.  We're anxious to get our paws on all the mouthwatering samples from our favorite food vendors (like The V-Spot and Beyond Sushi), saving up our pennies to take advantage of all the incredible bargains from our favorite companies (like Herbivore Clothing and Compassion Co), and trembling with anticipation of meeting our brilliant vegan idols (like Victoria Moran and Gene Baur).  We've had our calendars marked for as long as we can remember, and after two incredible years of celebrating the vegan lifestyle in the heart of New York City, we can't wait to see what the third year of the NYCVFF has in store.
But …what about our omnivorous friends and family?  Or perhaps you're omnivorous, dear reader, and wondering if the NYCVFF is up your alley?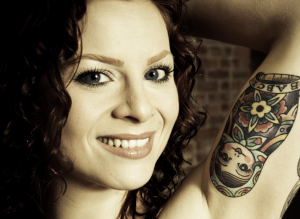 The answer, of course, is COME ONE, COME ALL!  That's right, no matter what category your lifestyle currently falls into, there is much to explore, discover, and experience at this weekend's big festival.  And what better way to expose a loved one to the abundance, the benefits, and the extraordinary community associated with the wide world of veganism?
We all know that the quickest way to someone's heart is through their stomach!  Tantalize your loved one's tastebuds with the best that vegan cuisine has to offer, from the creative and beautiful maki at Beyond Sushi, to delectable Latin fare from The V-Spot.  Save room for dessert with allergen-free sweet treats from Dauphin Bakery, and of course the rich and creamy coconut milk ice cream from Luna & Larry's!
Show your friends how much fun (and fashionable!) it can be to wear your heart on your sleeve with snazzy vegan message wear, stickers, buttons and much more from Compassion Co and Herbivore Clothing, and help them indulge in some self-love with the luxurious handmade face and body products from Soapwalla.  Plus, let your BFF in on the latest deals on premium vegan products and services offered through VeganCuts – they'll be glad you did!
Can't find a sitter for the kids?  Forget about it!  For the first time ever, the NYCVFF is featuring an entire section dedicated to veggie-filled-fun for the little ones in the Kumquat Kids Area!  Youth of all ages will have a blast with the all-inclusive lineup featuring puppet making and puppet shows, interactive games, face painting, educational presentations and performances, kids yoga, and even kid-friendly cooking demos that will have even the most finicky pre-teen psyched to help in the kitchen!
Maybe you've recently gone vegan, and you want to show your Mom or your Sweetheart how easy and fun it is to whip up their own delicious vegan meals at home.  The NYCVFF has you covered, with a wide array of cooking demos and nutritional information on the Pear Stage!  Don't miss Greens Queen Nava Atlas showing us how to scrumptiously prepare the most nutrient-dense foods on earth, and "The Blissful Chef" Christy Morgan will dispel those silly protein rumors with her presentation on protein-packed snacks!
On the fence, yourself?  Maybe you've been enjoying Meatless Mondays and reading many of the recent media features about the benefits of veganism, but you're not sure how to take the first step?  The New York City Vegetarian Food Festival is the PERFECT way to get the green ball rolling!  Check out the thought-provoking presentation about our food system from Gene Baur, and learn how to ease into veganism with Victoria Moran, both on the Apple Stage on Sunday.  And on Saturday, don't miss Laura Yaz and vegan drag queen Honey LaBronx, tickling your funny bone and answering your burning vegan questions with a live taping of Big Fat Vegan Radio!
So there you have it, folks.  While the NYCVFF is undoubtedly a playground for the longtime vegans and veggie aficionados, there's plenty of room for everyone who's interested in exploring all the sensational benefits the vegan lifestyle has to offer.  Just think:  One amazing weekend in Manhattan could change your life… and you'll still get more than enough protein, we promise!
Can't wait to see you all there…