Congratulations on your engagement! Besides your in-laws, some of the new people you'll be inviting into your life are your wedding vendors. Finding the right people to entrust with your plans for your big days can be stressful, but using these three strategies can help.
Decide how vegan you want to go.
Some questions for you two to consider: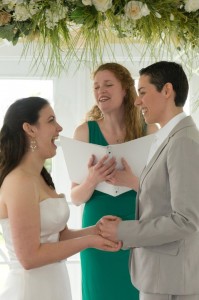 • Do you want to beyond buying vegan products and support the community by hiring only vegan people too?  
• Are you and your partner both on board with your definition of vegan including or not including silk, honey, and other products?  
 
• If something non-vegan is used, recycled, or inherited, would you use it since you didn't buy it yourself?  
 
• Is there anything that would make you not have a 100% vegan wedding? For instance, if your parents would only pay for the food if it is vegetarian but not vegan, what would you do?  
 
• How do you feel about using faux leather, faux silk, or other products that "promote" the look of the animal products?  
 
• If only one (or neither) partner is vegan, how will you compromise both of your beliefs?  
 
As with all of wedding planning (and of course your marriage), open communication between the two of you is important to maintain.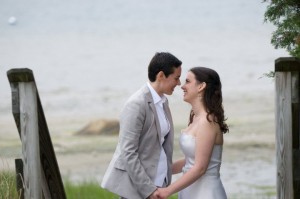 Don't assume a vendor has vegan experience because they can do "custom."
 
It's easy for a vendor to say "we'll do anything you ask!" but it's another for them to deliver quality on your special request. Has this baker done a vegan wedding cake before? It matters! Don't be tempted to jump on board with anyone who says they are willing and able. Ask for samples of vegan cakes at a tasting. And ask if you can contact couples they have made vegan cakes for before as references.
 
My wedding caterer said they had done a vegetarian wedding before, but by the time my wedding came around, there was a different chef in charge who had never experimented with veggie cuisine at all. We wanted our non-vegan guests to be impressed with the vegan food, but it fell flat.
 
On the positive side of the coin, finding a talented vendor willing to try vegan versions for your wedding may be your only option in some areas (though not in NYC!). In that case, just ask for a sample of their first attempt at a tasting instead of waiting until your wedding day to see how it comes out.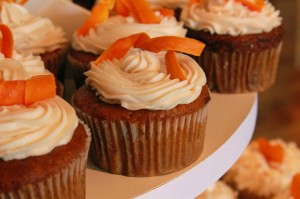 Look for who advertises in the veg*n community.
 
If a vendor is actively seeking you out, that's a good sign! Chances are they have experience and will be happy to work with you. Go to your local vegfest (like this one!) and see who is there. It is great chance to talk to them in person, just like at a wedding show.
 
Use the Vegan Weddings HQ vendor directory too. Vegan Weddings HQ is the go-to resource website for couples planning their vegan, vegetarian, or semi-veg weddings and their blog has lots of posts like this one. The vendor directory has listings of vegan-friendly vendors in all categories around the world. You can also look at the vendor shout-outs at the end of the featured real vegan weddings stories.
Want more vegan wedding planning advice? Check out my new e-book Borrowed, Blue, and Vegan Too!