By Fran Costigan, Speaker at the 2015 NYC Vegetarian Food Festival
I'm very excited to be doing a dessert demonstration again this year's NY VegFoodFest. I love the energy of the festival, the excitement, seeing long time friends and meeting new ones, and of course, learning and tasting. I'll be doing a chocolate-centric dessert demo so I thought I'd talk pre-demo about cocoa powder, which is the the real core of the cacao bean. Cocoa powder is pure chocolate and you get a big bang for your buck using it. But, you have to know the rules. I am no chemist but you need to follow some rules. In my Vegan Chocolate book and cookbook video, I call the rules "Fran's Rules'. I follow them too.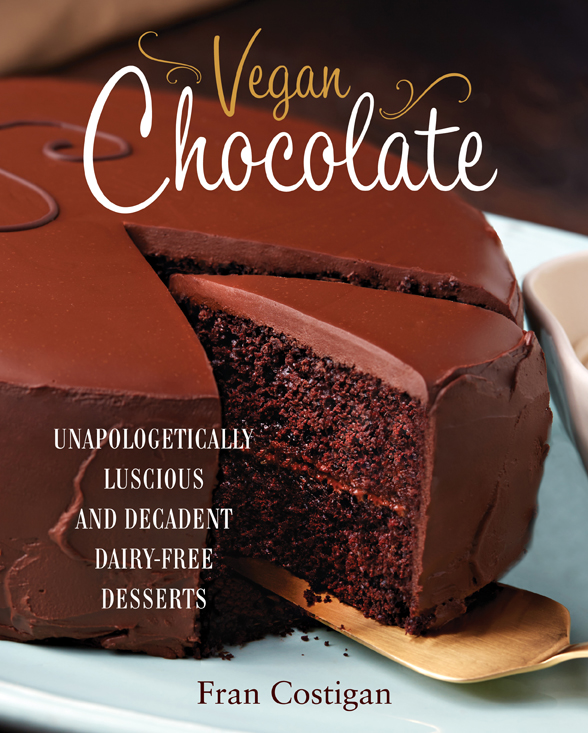 Are Natural and Dutch-Process Cocoa Powders Interchangeable?
The short answer is: it depends on what you're making or baking, but no matter what, the two varieties – three if you count raw cacao powder and four if you find the more unusual black cocoa – don't look or taste the same. Don't sub one for the other.
 
Okay, what is cocoa powder?
Cocoa powder is the dry solid remains of fermented, dried, and roasted cacao beans. Cocoa beans are cracked into nibs, which are then ground into a paste made of cocoa solids suspended in near-flavorless cocoa butter. This butter is not dairy—it is the chocolate's fat. After the cocoa butter has been pressed out, what is left are the solids, which is also referred to as cacao mass or chocolate liquor (no it is not booze). Whatever the label, this unsweetened chunk of chocolate is processed into the powder we call cocoa powder. Most of the fat or the cocoa butter has been removed and it sugar and milk free. For years, I have referred to cocoa powder as the low fat baker's secret. It is certainly the real core of the flavor of chocolate. Note that beans for raw cacao powder is not roasted but sometimes the temperatures achieved naturally during fermentation exceed the allowable limit for raw. Let's call these bean more accurately unroasted rather than raw.
Natural cocoa powder is not alkalized and is therefore also known as non-alkalized cocoa powder. Flavors vary based on the cacao bean and how it's manufactured but it is acidic with a sharp flavor. In most U.S supermarkets, natural cocoa is the most commonly available variety of cocoa—think Hershey's, Ghirardelli, and Scharffen Berger. Sometimes this cocoa is referred to as American style. Raw Cacao or cocoa is natural cocoa made from unroasted beans.
Dutch-process or European style, is alkalized cocoa. It is washed with a potassium carbonate solution that neutralizes cocoa's acidity. Although all cocoa powders can vary in color from light reddish brown to a richer dark brown, the Dutch process gives the powder a noticeably darker hue. It has a smoother, more mellow flavor. Heavily Dutched "black" cocoa powder is what gives Oreo cookies their characteristic dark color. Don't use much. It will wreck the taste of your dessert.
 
A recipe should specify which kind of cocoa powder to use:
With something liquid like hot chocolate, a sauce or a pudding, the major cocoa differences you'll see are color and flavor. Even here, if you vary ingredients or make substitutions from what is written, results will not be the same. That said, personal preference in the choice of cocoa is often based on what people ate as children. With a batter-based recipe, as in cakes — you cannot use the powders interchangeably and expect a good result.
Here's a clue if the recipe does not specify the kind of cocoa to use:
When baking soda is the leavening agent, use natural cocoa. If baking powder is used alone or in combination with soda, use Dutch process. If you cannot find Dutch process, use both baking powder and baking soda. Some recipes, like the Brooklyn Blackout Cake in my book Vegan Chocolate for example, use natural cocoa and baking soda. I added a variation using Dutch-process cocoa and baking powder and soda for my recipe testers outside the United States who told me they couldn't find natural cocoa. Don't substitute one for the other in batter recipes.
Finally, never substitute sweetened or drinking cocoa for unsweetened cocoa powder.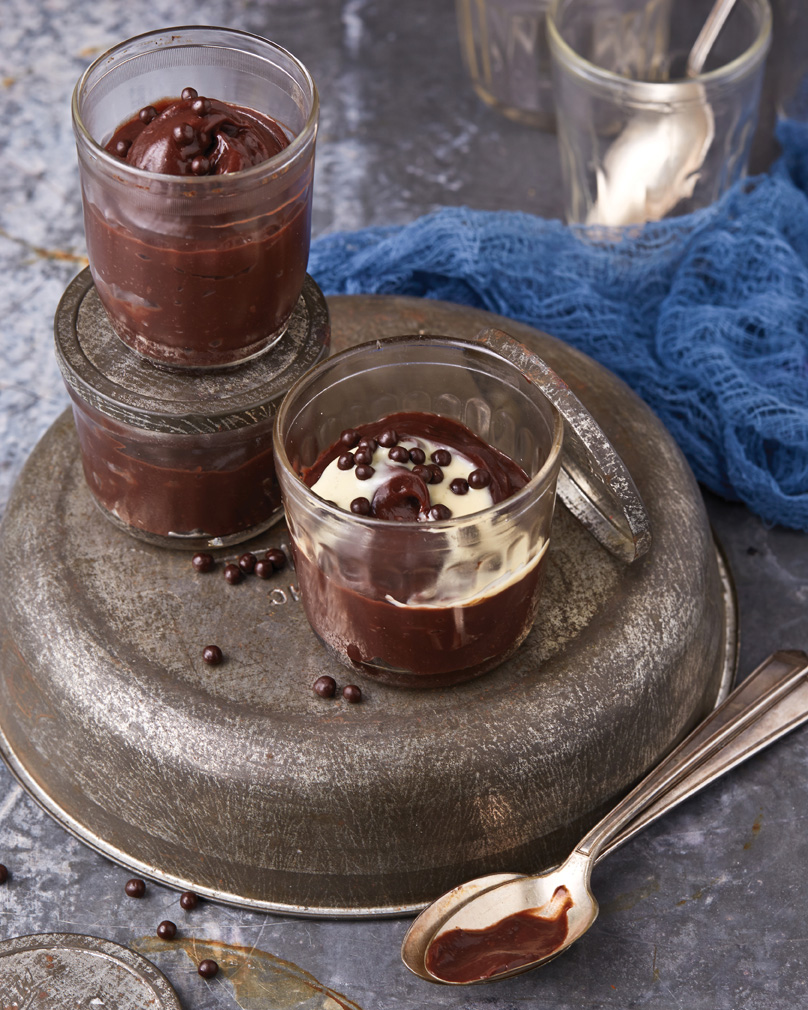 Almost-Instant Chocolate Pudding
In the same time it takes to make boxed chocolate pudding, you can make real chocolate pudding that's warm and thick, refined-sugar-free, very chocolaty and vegan!
 
Note: The cornstarch is crucial to get the right texture for this pudding. Using another starch thickener, such as my usual first choice arrowroot, would result in pudding with an unpleasant, stringy texture.
 
Makes 2 1⁄4 cups, 3 to 4 servings
vegan, gluten-free
 
Ingredients:
• 1/2 cup organic granulated sugar
• 1/4 cup organic cornstarch (do not use arrowroot, see Note)
• 1/4 cup Dutch-process cocoa powder
• 1/4 teaspoon fine sea salt
• 1 1/2 cups plus 6 tablespoons soymilk, almond milk, or coconut milk beverage
• 1 1/2 ounces dark chocolate (59 to 72%), chopped into small pieces
• 1 teaspoon pure vanilla extract
 
Directions:
1. Sift the sugar, cornstarch, cocoa powder, and salt through a wire mesh strainer into a medium saucepan. Slowly stir in the milk. Keep stirring until no trace of any of the dry ingredients is visible. The idea is to make sure the cornstarch is completely dissolved before you turn on the heat.
2. Cook over medium-high heat, whisking frequently, until the mixture begins to thicken and is close to a boil. This can take as long as 12 minutes. Adjust the heat as needed to get a full boil, but don't let it be so high that the bottom scorches. As soon as the pudding starts to boil, it will thicken to pudding consistency. Immediately lower the heat and boil gently for another minute, stirring frequently with a silicone spatula.
3. Remove the saucepan from the heat. Gently stir in the chocolate with the silicone spatula until the chocolate is melted and incorporated. Stir in the vanilla.
4. Spoon the pudding into a bowl. It will be set and ready to use in about 30 minutes at room temperature, but it can be refrigerated for up to 24 hours. If you refrigerate it, cover the surface with plastic wrap, making sure the wrap adheres to the pudding to prevent a skin from forming.
From Vegan Chocolate: Unapologetically Luscious and Decadent Dairy-Free Desserts, © 2013 by Fran Costigan, Running Press. Photo credit: Kate Lewis
www.francostigan.com
 
Vegan Chocolate: Unapologetically Luscious and Decadent Dairy-Free Desserts
The Book Trailer on YouTube
More Great Good Dairy Free Desserts Naturally
Facebook – > Vegan Pastry Chef Fran Costigan
Twitter – > @GoodCakesFran *named one of the top fifty cooking teachers to follow on Twitter*