Meet Multo® by CookingPal® -- The Kitchen Companion With Hundreds Of Smart Recipes That Saves You Time And Money
Multo by CookingPal is the newest smart kitchen appliance that might just be exactly what you're looking for.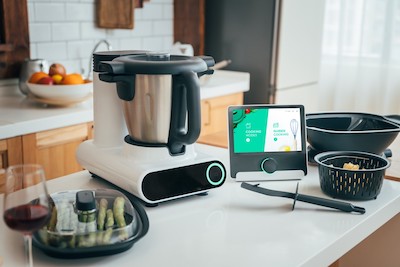 An easy-to-use, all-in-one appliance that can prep, cook, and clean; Multo also comes with hundreds of smart recipes in the included Smart Kitchen Hub tablet, with more being added every week. These smart recipes offer a unique cooking experience, to support various dietary needs, and it can help in improving cooking skills and transform one from a novice cook into a master chef. 
Although it seems like an unassuming, minimalistic package, the device also comes with an accessory kit which allows the device to transform and perform over 15 cooking functions including but not limited to: steam, sauté, weigh/scale, knead, keep warm, chop, whisk, grind, grate, mix, slow cook, sous-vide, boil, emulsify, stir and more. 
Having recently won the iF Design Award 2022, Global Innovation Awards (gia) in the Smart Home Category, and named one of the Best "All-in-one" Kitchen Appliances by Insider, Multo was made for everyone; from the master chef seeking to add another exquisite tool to their kitchen to the health-conscious meal prepper – regardless of their cooking skills. 
Here are a few vegan recipes which are set to be released on the Hub soon, meaning that all owners of the Multo will be able to follow the steps and create the tastes of how Chef Jamie, CookingPal's in-house professional chef/culinary innovator, intended. 
1. Jackfruit Tacos 
Is there anything that's more perfect for an easy weekday dinner or weekend party snack? Jackfruit – unripe jackfruit, that is-- replicates the texture of shredded meat incredibly well. You can cook it all with Multo. Start by making this barbecue sauce before following this jackfruit taco recipe. Multo will help you sauté and shred the jackfruit all in one, and then finally mix it with the barbecue sauce – keeping your hands and your kitchen clean and tidy.  
A true party favorite for vegans and your meat-lover friends alike. Be sure to test this recipe out!
2. Vegan Tuna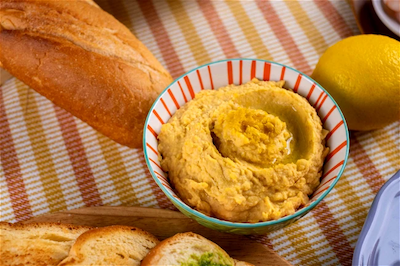 Your sandwiches will taste all the better with this vegan tuna spread. Best of all? It'll only take around 30 seconds to get the perfect vegan tuna with Multo with only 8 common household ingredients! 
The chickpea will help thicken your vegan tuna spread, and an extra tip from Chef Jamie is to add a little sprinkle of dulse flakes or nori sheet seaweed to give it a "taste of the sea". Curious about Multo and how Chef Jamie cooks? Check out the Chef Jamie Cooking Show here. 
3. Almond Flour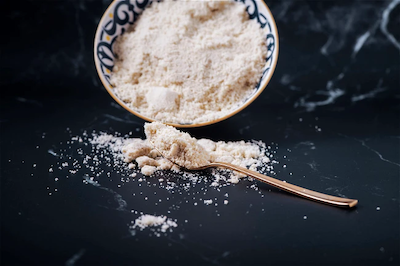 Almond flour costs more compared to traditional flour and is a healthier alternative to it too. Low in carbs and packed with nutrition, it's a great gluten-free alternative which makes wonderful keto-friendly cakes or adds a crispy coating to many dishes. 
Multo's powerful blade grates almonds to almond flour in just a minute. Then you can use it to make any of the
baked treats
in Multo's smart recipe library as well.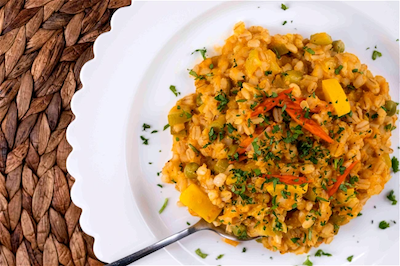 Barley risotto is a delicious vegan risotto dish – that's also a healthier alternative to Arborio rice because it's lower in fat and GI (glycemic index) while also being high in fiber. Barley gives the risotto a nuttier undertone, which pairs extremely well with lemon and parsley. 
With Multo, avoid the constant monitoring over the stove and stirring that traditionally stumps plenty of amateur chefs attempting to cook risotto. We can't believe how creamy and delicious the risotto is, all made at home.
5. Smoked Chickpea Kale Stir Fry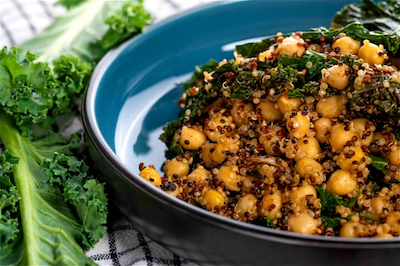 A healthy, delicious vegan dish that can be whipped up in only 20 minutes! This Smoked Chickpea Kale Stir Fry recipe is packed with kale (obviously) which is a great superfood that boosts your immune system and is packed with Vitamin A, Folate (key vitamin for brain development), and omega-3 fatty acid. It's also gluten-free, dairy-free and plant-based. The spices of this recipe mix well with the main ingredients after stir frying.
With Multo, enjoy remote control cooking via the Smart Kitchen Hub tablet
and
multi-level cooking; let Multo steam the kale and chickpea to best retain their nutrients while sauteing the mushroom and quinoa at the same time – all in one device to keep your kitchen clean and tidy.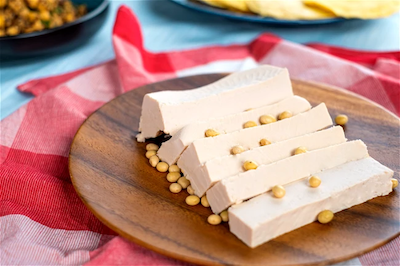 A vegan and vegetarian staple source of protein. Fun fact: did you know in Japan making tofu is a traditional craft and artform that has over a thousand years of history? With Multo, you can enjoy getting started with making tofu and tweaking its texture and tastes to your own preference. From soaking to blending the soybean, you can manage everything all in Multo's bowl.  
Pro tip: after making the tofu, you can use the soybean curd residue to make cookies and pancakes.
Why Multo is Great for Vegans and Vegetarians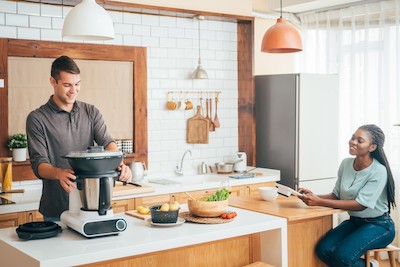 So all in all, is Multo great for people on a plant-based diet? You bet! Multo comes with a free recipe subscription, with new recipes uploaded every week that you can download for free. What's more, according to Chef Jamie, 60% of their new recipes this year will be special diet recipes, such as vegan, vegetarian, gluten-free and more, which means over 200 new special diet recipes! 
Of course, you can always cook your favorite dishes outside of their smart recipes via taking full control over Multo's many functions. Specifically, Multo is great for many plant-based recipes because it has functions such as chopping, blending, steaming, pureeing, and more. No more using multiple pots and pans – just cook your entire meal in Multo to keep your kitchen clean and tidy. 
Learn more or purchase a Multo
here
. You can also follow them on their
Instagram
or
Facebook
@cookingpalofficial.