I truly wish that everyone knew how eating your veggies doesn't have to be bland and boring. There is a world of flavor out there that can make eating ultra nutritious foods a very enjoyable and tasteful experience.

Finally after hearing rave reviews from a lot of my personal training clients, my wife and I got to order from Simply Home NYC. The beauty of Simply Home NYC is that a highly trained chef goes to your home and prepares the meals for you!
This was going to be our first experience eating French-inspired vegetarian food, and since my wife and I can't cook, this wouldn't be our last.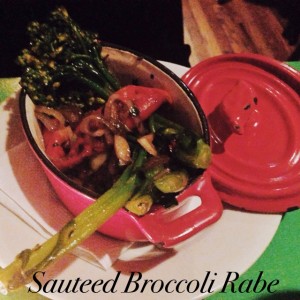 My appetizer, the Sauteed Broccoli Rabe came out quickly (the chef was fast and friendly) and I have to say that I've never tasted broccoli this good. Vegetables lose a little bit of nutritional value during any cooking process, but you are certainly more likely to eat more veggies if they're prepared like this!
 Plus, if you're like me, you're thinking about how superhuman your immune system will be after having this appetizer. Garlic, which according to the National Institute of Health has been used to prevent heart disease, high blood pressure, vampires, and hypertension. Mixed with lemon, which can help fight acne, and boost your Vitamin C levels, covering a delicious sauteed broccoli rabe (packed with Iron and Vitamin A).
I wonder if I ate this meal once a day every day would I ever get sick?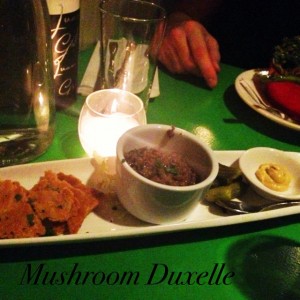 My wife's appetizer was the Mushroom Duxelle which was amazing. The pate sablee, which was made into a cracker-like crust had an extremely sweet taste to it which complimented the salt and peppery taste to the delicious mushroom pate spread. Plus, it came with mini bite-sized pickles which was just fun to eat.
I happen to know a few people who aren't fans of mushrooms. If you aren't one to scarf down a few dozen raw mushrooms, try eating them in the form of a spread (pate). It taste great and mushrooms are an excellent source of Vitamin D which will keep your bones healthy.
After what seemed like only a short while, my entree, the Choux Fleur Roti (I probably pronounced this incorrectly) came out.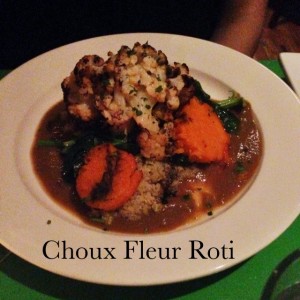 This entree was comprised of roasted cauliflower with rosemary scented quinoa, sauteed greens and roasted yam. INCREDIBLE!
Never has plant-based food been prepared and presented so exquisitely. Before I even took my first bite I had a feeling my taste buds were about to get rocked in a good way and I was totally right.
Cauliflower is great for many reasons other than just the taste. You get plenty of B vitamins (which is something all vegetarians and vegans should be aware about) which helps boost energy levels as well as promote healthy hair skin and nails. Also, the Omega-3's that cauliflower contain are extremely beneficial to everyone.
A lot of people with achy joints should really look into the health benefits of Omega-3's. The anti inflammatory properties of Omega-3's help reduce joint pain drastically. I personally felt somewhat of a lubricating effect on my joints when I first started take Omega-3's.
The quinoa (enhanced with rosemary) and yams rounded out the meal with a very sweet and hearty feel to it.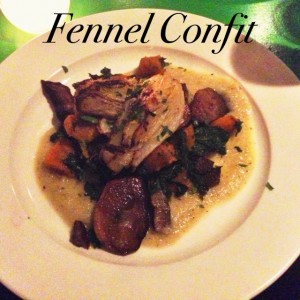 My wife's entree (which I had a lot of), the Fennel Confit was made up of squash, portobello bacon and kale in apple-onion sage sauce.
Fennel, like most greens are packed with phytonutrients that fight off free radicals with their antioxidant properties. These phytonutrients help prevent aging, disease, and will boost energy levels/immunity.
Raw fennel is typically crunchy and slightly sweet, however for this meal it was more juicy than crunchy as it was coated with a healthy layer of sage sauce. The herb sage has many health benefits, but the one thing that sage has been known to do is improve memory.
In fact, professor Peter Houghton of King's College presented data at the 2003 British Pharmaceutical Conference in Harrogate that sage contains compounds that could easily treat Alzheimer's disease just as well as modern pharmaceuticals.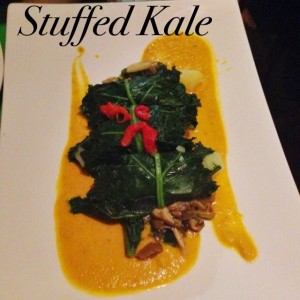 My wife and I decided to split the Stuffed Kale dish. I thought it was a genius idea to have a bed of kale over onions and a coat of carrot coriander sauce. This dish will single handedly reverse any negative feelings anyone may have towards the taste of kale.
I was completely satisfied, and felt re-energized from this meal. This is the way you should feel after having dinner. Ready to take on the night.
It made perfect sense that such a nutritious meal came out of Simply Home NYC. The owner, Ken Larsen is a vegetarian triathlete. Which by the way, is music to my ears. I love to meet strong and healthy plant-based folk keeping it real in the fitness world.
I really liked how everything we ate was gluten free, nutrient dense, and extremely rich in taste. Not only is Simply Home NYC an excellent option for vegetarians/vegans to try out, it's a great service to share with non-vegetarians/non-vegans too, as I'm confident the biggest meat eater in the world would enjoy a meal from Simply Home NYC.
Greg Sher, Founder of I Kill Fat, Manhattan Personal Training has been a personal trainer in NYC for over 5 years (and vegan for 4!). Offering custom resistance training programs, nutritional guidance, and convenience to his clients, Greg's mission is to make training as efficient and fun as possible. Download his new eBook: How Not To Be A Junk Food Vegan.