These cupcakes are super easy to make!
The bananas in these super moist cupcakes will remind you of a good comfort dessert but will have sophisticated touches. The cake is subtly spiced and dotted with chocolate chips then covered with a silky blanket of cappuccino frosting. Who needs a latte when you can whip these easy cupcakes up in no time!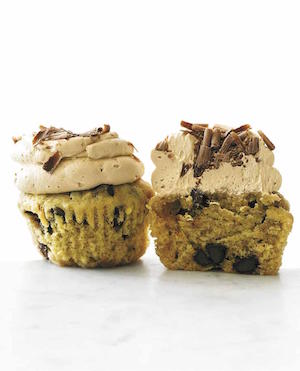 BANANA COFFEE CUPCAKES
pasticcini di cafeè e banana
 
MAKES 18 CUPCAKES
I made these cupcakes with my culinary interns and they went crazy for them. Some said they were the best cupcakes they've ever had, vegan or not! The banana cupcake is moist, dotted with chocolate chips, and subtly spiced—perfect with a blanket of silky cappuccino frosting.
MAKE-AHEAD TIP: Cupcakes can be made in advance and fro- zen, unfrosted, for up to 1 month. Thaw cupcakes and frost before serving.
BANANA CUPCAKES
2 cups all-purpose flour*
1 cup sugar
1 teaspoon baking powder
1/2 teaspoon baking soda 1 teaspoon salt
1/2 teaspoon ground cinnamon
1/2 teaspoon ground nutmeg
1/2 teaspoon ground cloves
1/2 teaspoon ground ginger
1 cup mashed bananas (about 2 very ripe bananas)
1 cup canned coconut milk, mixed well before measuring
1/2 cup canola oil
1 tablespoon white or apple cider vinegar
1 tablespoon pure vanilla extract
1 1/2 cups semisweet chocolate chips (dairy-free)
 
COFFEE FROSTING
1 cup nonhydrogenated vegetable shortening
3 cups powdered sugar
1 teaspoon pure vanilla extract
2 tablespoons instant espresso powder dissolved in 2 tablespoons water
 
*For a gluten-free alternative, substitute gluten-free all-purpose flour plus 1 teaspoon xanthan gum.
 
For the cupcakes: Preheat the oven to 350°F. Line two 12-cup cupcake pans with 18 cupcake liners.
In a large bowl, whisk flour, sugar, baking powder, bak- ing soda, salt, cinnamon, nutmeg, cloves, and ginger. In a separate bowl, whisk bananas, coconut milk, oil, vinegar, and vanilla. Pour the wet mixture into the dry mixture and whisk until just combined. Do not overmix. Gently fold in chocolate chips.
Fill the cupcake liners about two-thirds full with batter. Bake for 18 to 20 minutes, or until a toothpick inserted in the center of the cupcake comes out clean with a few crumbs clinging to it. Cool the cupcakes completely before frosting.
 
For the frosting: Using a handheld or stand mixer, beat the shortening until smooth. With the mixer running on low, add powdered sugar and vanilla, and beat to incorporate. Add 1 tablespoon of espresso liquid at a time, as needed, until it reaches desired frosting consistency and espresso flavor. You may not need to use all of the espresso liquid. Beat on high for 2 minutes, until light and fluffy.
 
To assemble the cupcakes: Spread a layer of frosting over each cupcake.
Recipe: Copyright © 2014 by Chloe Coscarelli from CHLOE'S VEGAN ITALIAN KITCHEN published by Atria Books, a division of Simon and Schuster, Inc.
Photo: Photograph by Teri Lyn Fisher