For those looking to explore the best of NYC and its boroughs, from meat-free eats to offbeat experiences to outdoor attractions, NYC Tours & Photo Safaris creates custom itineraries that you'll never forget, informed by insider expertise and high resolution photographs to document your day. They'll happily arrange a vegetarian or vegan-focused tour to discover the best places in the city for healthy, meat-free nibbles, before walking it off on, say, the High Line. This public park built on a historic freight rail line is elevated above the streets for an interesting perspective of Manhattan's West Side. 
While the tour can be customized to your interests and desires, here are five vegan-friendly experiences that you can have in NYC and/or experience on a tour. And remember, high resolution photographs of you and your group are always included! 
1. Accessible Vegan Comfort Food at By Chloe
For many, By Chloe is the first vegan restaurant that comes to mind in the Big Apple. Chloe Coscarelli, a vegan cookbook author, social media star and the first vegan chef to win the Food Network's Cupcake Wars, opened By Chloe as her first fast-casual restaurant in 2015. Some tasty dishes include her Mac N' Cheese made with sweet potato-cashew cheese sauce and shiitake bacon and The Classic Burger, with a tempeh – lentil – chai – walnut patty, smothered with pickles, onions, beet ketchup and special sauce on a potato bun.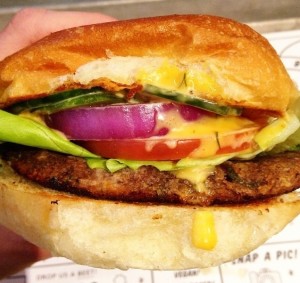 Photo credit Tracy Memoli​
2. Plant-based Pizza at 00+Co
00+Co is the new plant-based pizza restaurant in East Village, satisfying your pizza cravings in a delicious and wholesome way. Chef Scott Winegard has created pizzas with an abundance of vegetables, pestos and other condiments complementing traditional wood-oven pizza. "00" in the restaurant's name references the high quality Italian flour used in the pizza dough, while a variety of nut-based cheeses replace traditional dairy varieties. You can try everything from a traditional tomato, basil and cashew mozzarella to the innovative smoke oyster mushroom, walnut cream, green harissa and lemon. In addition to pizza, the menu will include a selection of cooked and raw small plates with Italian and Mediterranean flavors. For example, try squash with smoked almond ricotta, and millet "polenta" with brussel sprouts and chestnuts and beet ravioli with pistachio pesto and Meyer lemon cream.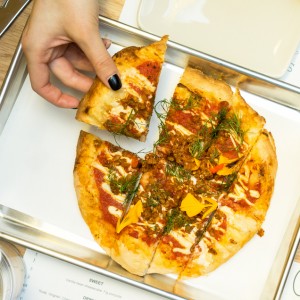 Photo credit Robert Laing
3. Gluten-free and Vegan Bakery at Erin McKenna's Bakery NYC
Spoil yourself with a sweet treat at Erin McKenna's Bakery NYC, a gluten free & vegan bakery in the Lower East Side. Erin McKenna's Bakery NYC is a specialized bakery dedicated to creating high quality, vegan, and gluten free confections. You can chose from vegan soft serve ice cream, cupcakes, cakes, muffins, cookies and more. They never use refined sugar, but instead opt for agave nectar for sweetness. They also bake with cold-pressed coconut oil, which is easily digested and high in lauric acid. Studies indicate it can help kill bacteria and yeast, promote healthy heart function, regulate cholesterol levels, fight viral infections, and boost metabolism. And most importantly, all their baked goods taste delicious!
 
4. Vegan Supper Club by Grazelist
Vanessa Upegui is an amazing vegetarian/vegan chef who founded Grazelist (http://www.grazelist.com/about-1/), a vegan supper club here in NYC.  It started in 2012 as a dinner amongst friends and has grown into a well-rounded experience, complete with interesting conversation, performance, art and of course, delicious, globally-inspired cuisine. Grazelist uses these delicious dinners to start interesting discussions by pairing bright minds and beautiful food. These dinners help to create conscious communities who explore cultural immersion through innovative and healthy menus. The raw and gluten free menus are not to be missed! 
5. Take a class with NYC's very own "Culinary Shaman"
Sarah Eve Cardell (http://sarahevecardell.com/) — a friend of NYC Tours & Photo Safaris' founder, Jessica Festa — is a holistic healer, vegan and raw food chef, and certified yoga teacher with roots in NYC. She has collected a unique assortment of skills all over the world including becoming a certified yoga teacher training in Israel, studying with traditional shamans in Brazil, Bali, and Thailand, indigenous tribes in Panama, learning Reiki with Costa Rican masters, practicing organic farming in Laos, and expanding her knowledge of raw vegan cuisine and nutrition in countless locations. You could take a class about one of these topics with NYC's own Culinary Shaman.