Buffalo Brussels Bites stampeded to victory Monday night during the Battle of Brussels vegan cooking competition held at V Spot Organic.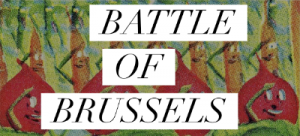 FOR IMMEDIATE RELEASE
Chef Melissa Charlana created her tasty take on Buffalo Wings, and earned kudos from the event's celebrity judges as well as lay eaters who bestowed on her their People's Choice award. (See recipe below.)
The second-place prize went to a vegan cooking duo, Allison Polaski and Alexis Smith, who presented Al & Al's Bangin' Brussels Pizza.
Other chefs earning raves included Shoshana Frishberg-Izzo, of Brooklyn Rose Pastries, who presented a brussels sprouts cake; Rachel Shamah, of Brooklyn Whatever, who served up brussels sprouts pickles, called Shpickles; and the V Spot's own Alex Carabano who dished up a brussels sprouts-laden pasta with a garlic and basil pesto full of cashews, hazelnuts, pine nuts, and avocado.
The brussels sprouts competition followed on the heels of popular sampling nights staged recently by U.S. Veg Corp. Previous cook-offs featured vegan versions of tacos, macaroni and cheese, and burgers.
U.S. Veg Corp is a 5-year-old event planning company best known for its presentation of the New York City Vegetarian Food Festival every spring, drawing more than 7,000 attendees.
Co-founder Sarah Gross said the idea for food competitions arose to bring vegans together in a more intimate setting. "We pack the restaurant with all these happy eaters who go from this sample to that sample and then back again," she said. "There's a lot of applauding and celebrating the goodness of delicious, healthful food."
For information on future cooking competitions, visit usvegcorp.com.