Ronnie V Cow has a special glint in his eye, or is it just the way the light is shining on his face?
Ronnie V is my colleague at Animal Hero Kids. Our mission is to inspire, empower and recognize compassionate kids and teens around the world. Ronnie V helps give humane education presentations and surprise Animal Hero Kids Awards at schools. He is a hard to ignore visual reminder that cows need to be included in the whole kindness to animal's concept.  He has his own, specially purposed, huge purple suitcase, and we are packing up getting ready to take a bite out of the Big Apple. New York, resplendent with vegan delights, I heard they have vegan donuts, can this possibly be true or is it just a hopeful dream? New York is a perfect city for a Veg Food Fair smorgasbord.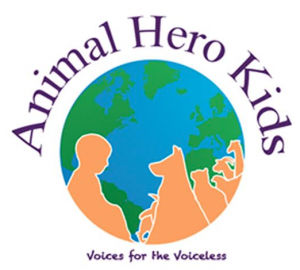 When I was 9 years old I was taken to a chicken hatchery by an Aunt. You may know already about the horrid reality of male chicks being gassed and suffocated after they hatch at hatcheries. The shock of realizing that "food" animals are legally treated with absolute abuse led me to a lifetime of animal advocacy.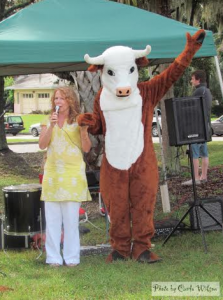 Now, 46 years later the book, Animal Hero Kids Voices for the Voiceless, chronicles the brave, kind, dedicated kids and teens I have had the pleasure of meeting along the way. The stories are heartening. Activities, service learning projects and practical animal hero tips from celebs like Sir Paul McCartney, Russell Simmons, Joaquin Phoenix, Jessica Chastain, Ricky Williams, Pink and Jorja Fox combine to make this practical guidebook perfect for all ages. The book is part of Animal Hero Kids Power Kind project to gift school libraries with kindness kits.  An evolving times signifier is that I had no problem finding youth to contribute their favorite vegan recipes for the middle section of the book which focuses on farm animals being rescued by young heroes. Ronnie V Cow and I will be presenting Animal Hero tips and encouraging nominations for the Animal Hero Kids Sir Paul McCartney Young Veg Advocate and the Russell Simmons creative award categories on Saturday, March 14 at 2 PM in the children's area. Saturday and Sunday we will be signing books in the children's area, all day, so, come on out and see us and Ronnie says to bring vegan donuts. Hope to see you there!